The non-contact infrared thermometer is designed for measuring the frontal temperature of human, which is very simple and convenient to use. There is no laser point which can avoid potential damage to eyes, and it does not need to contact with human that can avoid cross infection. It is suitable for family users, hotels, libraries, large-scale enterprises and institutions. It can also be used in hospitals, schools, customs, airports and other comprehensive places. At the same time, it also can be provided for medical staff to use in clinics.
The composition of Non-contact Infrared Thermometer:
It is mainly composed of ABS plastic shell, PCB circuit board, IC, resistance, capacitance, infrared sensor, LCD, backlight and battery wire buckle.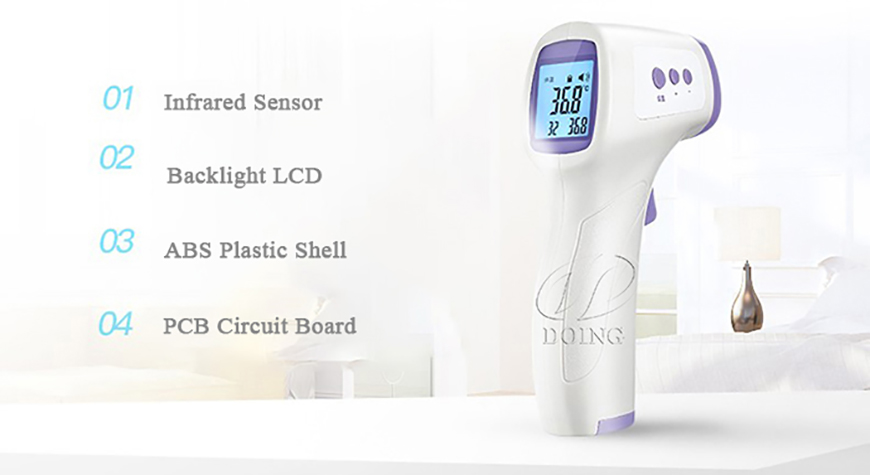 The composition of Non-contact Infrared Thermometer
Sphere of Application:
The Non-contact Infrared Thermometer is not only suitable for measuring human temperature, but also the liquid temperature, food temperature etc.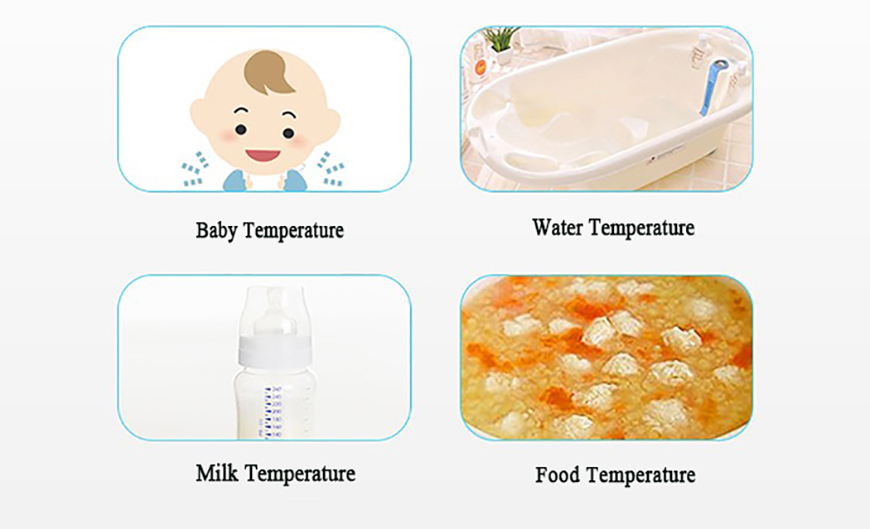 The usage of Non-contact Infrared Thermometer
Characteristics of Non-contact Infrared Thermometer:
1.Automatic value record and shutdown
2.Backlight LCD to easy read
3.Objective to test: the temperature error is bellow ±0.2℃
4.Service life: using more than 100000 times
Product Information
Name
Non-contact Infrared Thermometer
Measurement Way
Non-contact
Measurement Distance
5-8cm
Measurement Range
Temperature
35℃-42.9℃
Material temperature
0℃-93℃(±1℃)
Measurement Error
35.0℃-42.0℃
±0.2℃
Other range
±0.3℃
Size
134*76.5*38mm
Weight
≈100g
Certifications
FDA, CE,FC
Why do we use Non-contact Infrared thermometer?
1. Mercury temperature measurement is difficult to read, easy to damage, and need long time to get the temperature.
2. Oral temperature measurement and contact test are easy to produce cross infection.
Three Unique Designs:
1.Small probe with high-precision sensor can get more accurate temperature.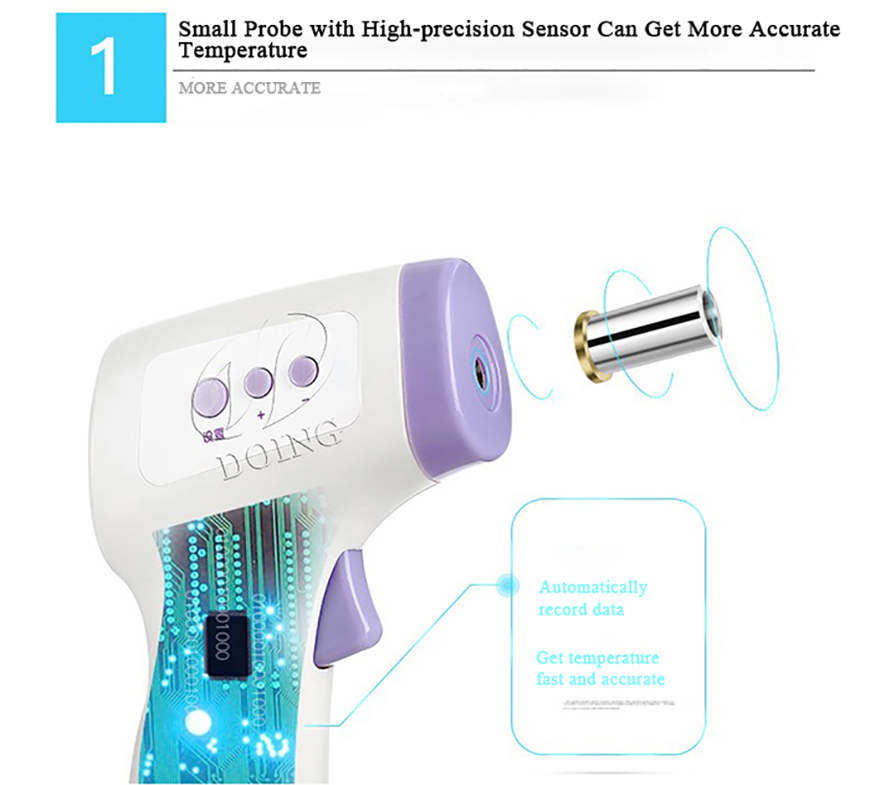 Small probe of Non-contact Infrared Thermometer
2.Infrared sensor to get human temperature.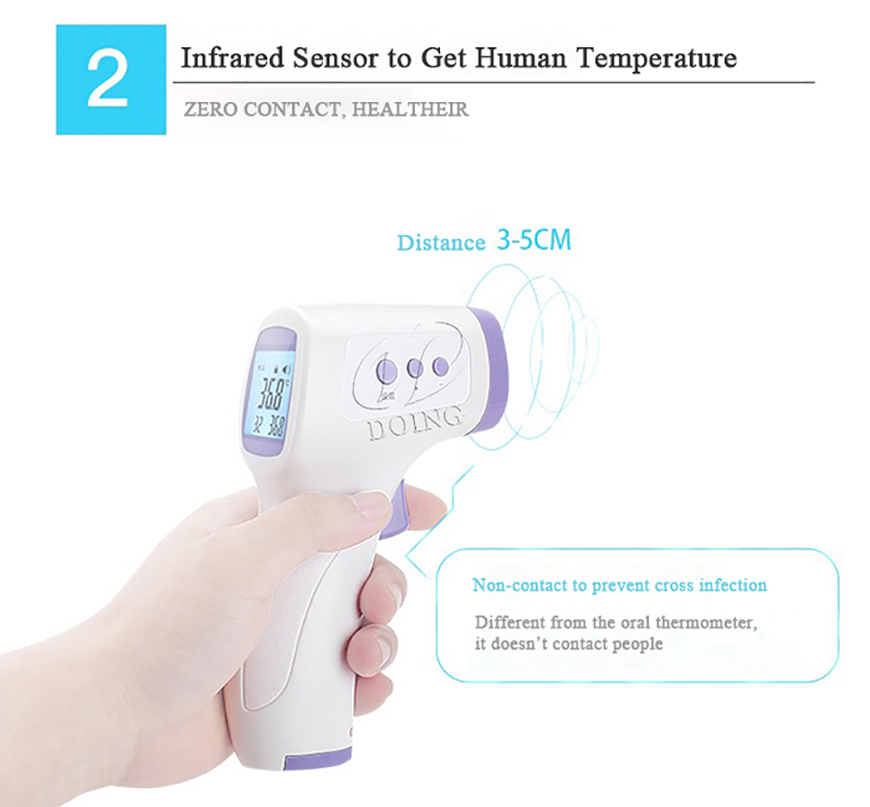 Infrared sensor Non-contact Infrared Thermometer
3.Streamline design for comfortable grip.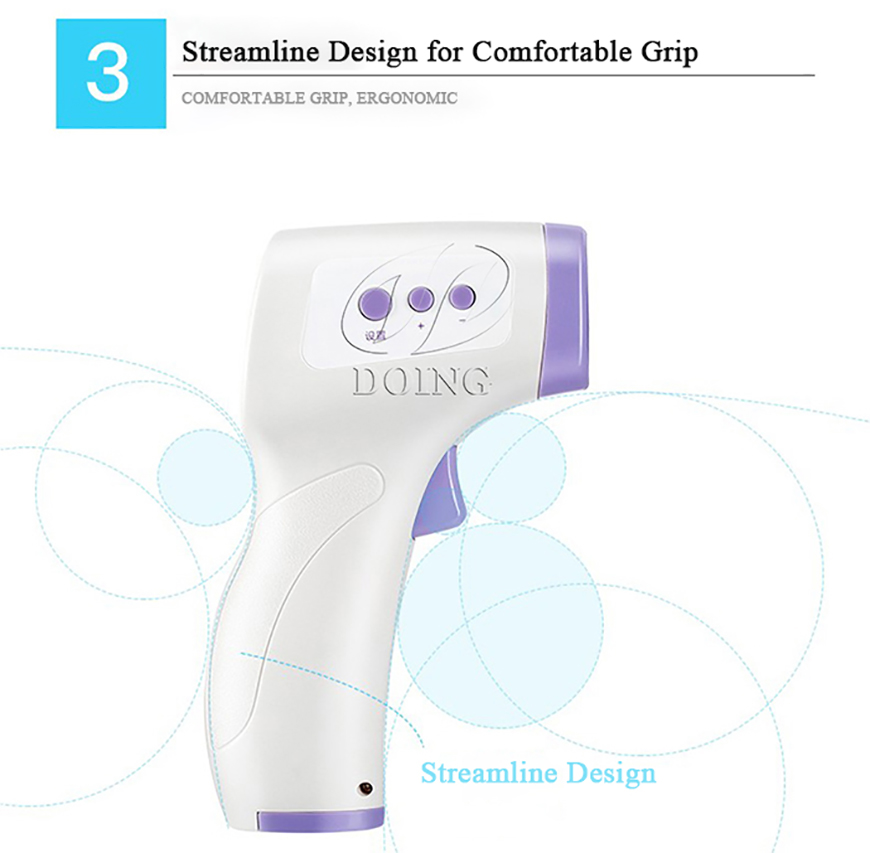 Streamline Design of Non-contact Infrared Thermometer
Using Instructions:
1.Open the battery compartment, distinguish the positive and negative poles of the battery, and install the battery.
2.Aim the sensor of thermometer at the center of the forehead and keep it for 5-8 seconds. Do not touch the forehead directly to avoid cross infection.
3.Select the mode and press the measurement button to get the temperature degree.
Warm Hints:
1.Do not immerse the product in any liquid.
2.Do not put the product in the environment of high or low temperature or humidity for a long time.
3.Do not collide, fall or put with sharp objects together.
4.Before using, please read the instruction carefully and confirm that the battery has been installed.
5.Please keep the probe clean before and after each use.
6.Do not measure the temperature within 30 minutes after exercise, meal and bath.
7.Keep this product out of the reach of children.